11. Jimmy J. Jazz - Facecömic: Young people and their information in Internet (the 27th of April, 2011)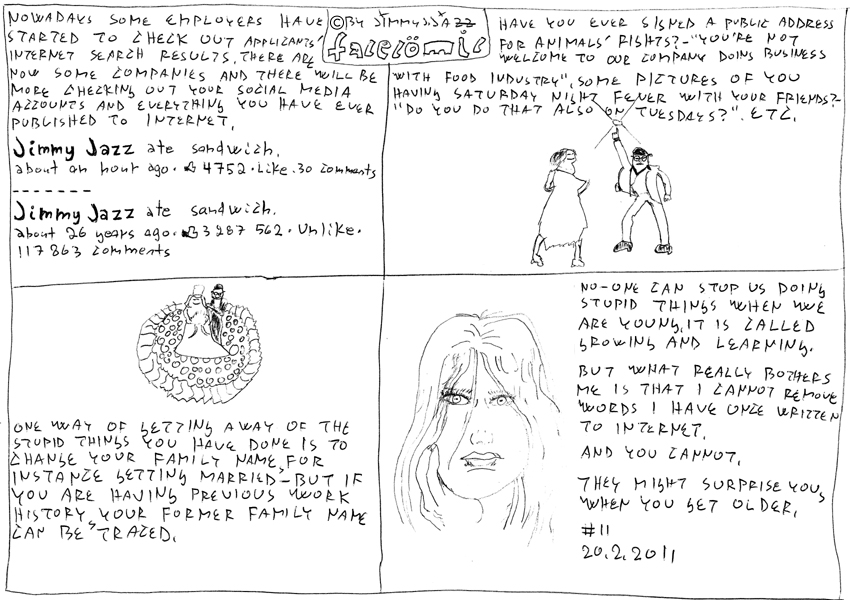 (c) Jimmy J. Jazz 2011-

Nowadays some employers have started to check out applicant's Internet seach results. There are now some companies and there will be more checking out your Social Media accounts and everything you have ever published to Internet.

Jimmy J. Jazz ate sandwich.

about an hour ago · <thumb up> 4752 · Like · 30 comments
---
Jimmy J. Jazz ate sandwich.
about 26 years ago · <thumb up> 3287562 · Unlike · 117863 comments
Have you ever signed a public address for animals' rights? - "You're not welcome to our company doing business with food industry".
Some pictures of you having Saturday Night Fever with your friends? - "Do you do that also on Tuesdays?". Etc.
One way of getting away of the stupid things you have done is to change your family name, for instance getting married - but if you are having previous work history, your former family name can be traced.
No-one can stop us doing stupid things when we are young. It is called growining and learning.
But what really bothers me is that I cannot remove words I have once written to Internet.
And you cannot.
They might surprise you, when you get older.
#11 20.2.2011
Keywords: Facecömic, employers, Internet search results, public address